[adrotate group="4"]
| | |
| --- | --- |
| Type: | Large Fancy Mouse |
| Color: | White |
| Height: | 7.5 feet tall |
| Weight: | 750 lbs. |
| Baring Weight For Her Rider: | 250 lbs. |
| Gender: | Female,/td> |
Amy Mouse is my character established in my 'Night Lights In My House' series. She is an anthropomorphic white mouse with a long shiny pink tail with a spiral design,–along with a pointed tip; tulip-shaped large ears,–white on the outside; and pink on the inside; large head; series of modifications. She speaks either English (EN/EN) or English US (EN/US). During my first development of my character, she's a ride-on type character. And she's a kind, friendly, adventurous, intelagent fun large mouse. Sometimes she solves many problems with various critical events. For example; solving issues with bad guys who were trying to keep people away from common places.
Contents
History and Development
Development started on 2014, during the story, Night Lights In My House series. Appeared after Annie goes on a duty to extend the subway. Amy starts off as a white mouse wearing fairy-type clothes when Annie leaves our house. Most of her mouse-like features were modified to give Amy more of a fairy-like design/mouse-like design.
Unlike other mice, Amy has lots of powerful features what other mice don't have. She can spot possible problems with villages, and resolve lots of issues with reducing power. She's currently a software freedom activist who support free software. And open-source programs, books, and movies. She also became an ally for my peers who were trying to resolve fear of horses when one of my peers has panicked during our development of our open-source projects.
Amy can easily reach the ceiling of a room without standing on her toes. She can change light bulbs, and she can rewire one room without any trouble.
Her Full Name is Amy Johnson Mouse. Although; she prefered to be mentioned as 'Amy' or 'Amy Mouse' because, she said: "It's easier to mention me as Amy or Amy Mouse. Just skip my middle Name." She doesn't have a nickname just yet.
Amy Mouse is ridden by me. She's a ride-on type character because, can handle a rider than any other mouse on earth. In my imagination,–interlinking with yours; she may look like she's a small mouse, but she's BIG! You can take a look at the appearance section of this article.
Likes
This is her common likes. This list contains what she actually like.
Enjoying A Tea Party
Learning Something New
Helping Others
Solving Mysteries
Receiving special treats,–after her training session.
Reading
Writing
Dislikes
Those are her dislikes.
Coming Soon
Favorite Foods
Coming Soon
Equipment/Weapons
Coming Soon
Appearance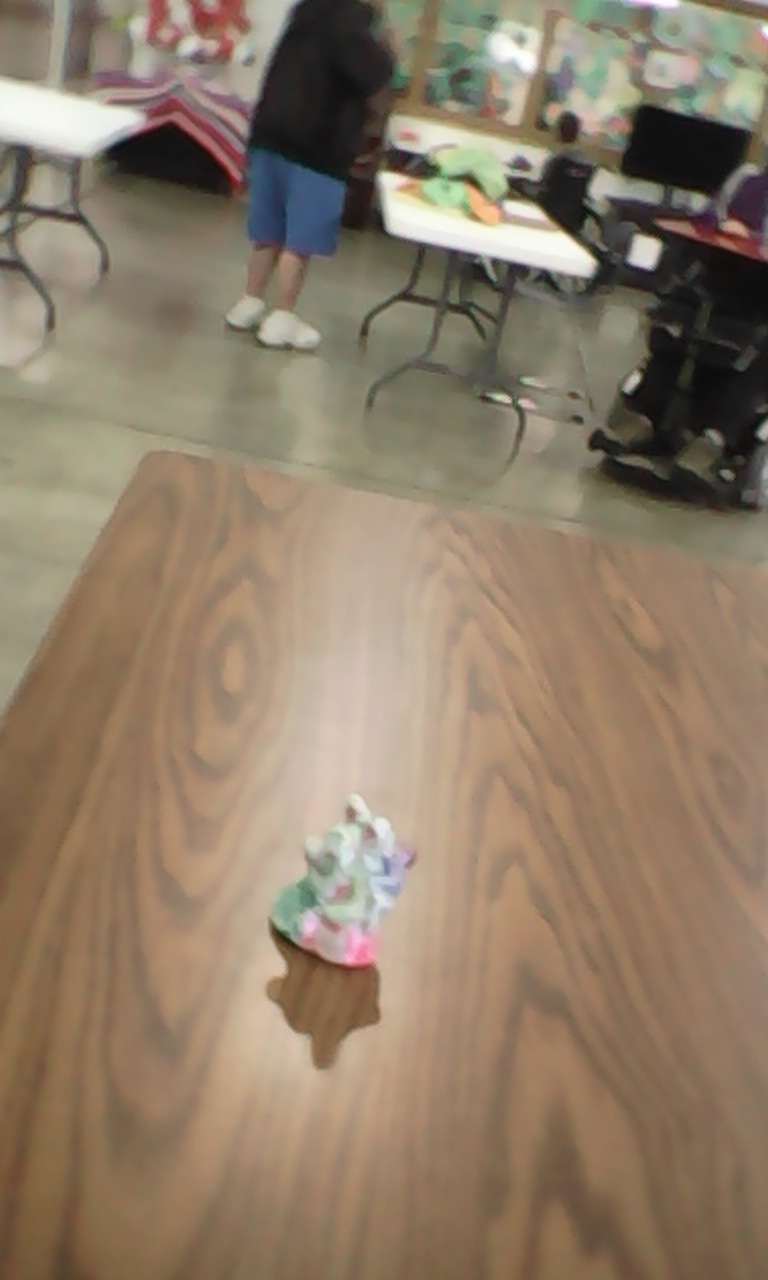 White, large head, tulip-shaped ears, pink rounded nose, wears a pink dress with apron, shiny reflective pink tail, tall, wears slippers, and a set of fairy wings, and medium eyes (lacking eye brows).
When unmounted; she may look like a mouse-headed fairy. Her artificial wings were always spread out. Her dressed is formatted to give her more a friendlier look. Unlike other fictional rodents; she can hold alot of equipment inside her zipper compartments that were located at the sides of her dress. Her tail is always changing positions so she won't tip over.
When mounted by me; she leans forward to a fairy-like flight position,–spreading her artificial wings as a guide to straighten her to a streamline position, but her head always stay upright. She always adjusts to an alternate position. By default; she switches to a mouse-wheel position,–simulating running via a wheel. She prefers her head to be away from the ground. When running via the large bronze/steel wheel with me riding her; she always use her feet to run,–while her arms are used for other functions. Her back neverarches upward,–making her look like a regular mouse or rat. Instead; her back is arched downward,–from one end of her spine to the another. That enables her to handle her rider longer than ordinary fictional rodents!
This is her starter appearance. She has this starter appearance because, she's currently being developed by me.
Character
Via Night Lights In My House Series
Friendly, smart, and sometimes active. She often dresses up like a fairy to be my backup fairy,–after Annie goes on duty to expand the subway. Sometimes she becomes an activist for our environment, like helping to cut pollution, and choose a vegetarian diet. She's currently a vegetarian because, she doesn't eat meat.
My mount,–if there's no available fairy to ride. Always ready to go on duty. She often sets herself up as my backup mount to enable me to keep going forward. Usually her default action is running when supported.
Sometimes; Amy help other people resolve these common problems, such as helping children resolve problems with sleeping in dark homes.
Via A Fairy-Rider Without A Fairy Series
Coming Soon!

Relatives
Annet Mouse
Annet Mouse is Amy's mother.
Lennie Baugh
Main article: Lennie Baugh.
Lennie is Amy's cousin who is younger than Amy. Believe it... or not. He's Amy's black cousin.
Religions What She Joined
Hinduism
Budism (current)
Symbolism
A long time ago in the 1990s; Fairy-Rider... which is me wanted to believe in fairies. He didn't wish to exterminate mice, what I discovered has gone wrong; my mother is has been exterminating mice with a controversial toxic method of killing mice for the purpose of keeping her home free of mice. I was minding my own business; watching TV. What I heard is a little mouse screeching in pain. Most likely; my mother used a mixture of bleach, and oil to clear away mice from the recycle bin. It told me the following: "Relying on pest-control services makes your home worse, stop the persecution, be nice to mice, and choose not to exterminate us!" I was shocked when 1 mouse has died in toxic mixture. Well, it's a gray little mouse stuck in the recycle bin. That resulted me to avoid relying on my mother's barberric act.
When I was watching some educational TV since a long time ago. What I've learned from some TV shows, you should be nice to mice. But I'm not sure what program what I was watching years ago.
During the 2000s; I was imagining owning my own house that ran by batteries. I managed to leave traps out of my home. It's a large 3.5-story house that only used electricity to generate heat, and run Air-conditioning units. It's configured with an easy to navigate halls. Almost all rooms were large in size. In order for me to keep my house in good standing, my fairy has prompted me to leave mouse-traps out of my home,--for good. However; I already did! I've been working with my house in my imagination for years, and that's when I kept relocating house mice with electric trolleys that were operated by a central computer. Well, vegetarians don't need to rely on pest-control services because, they're susceptible to liabilities.
Years went by, some of my fairies started to poof away. That resulted me to be stranded in some town without any fairies. Somehow; I've virtually started riding a large white mouse of some sort. And she started becoming a placeholder mount when fairies has poofed out. Almost all of the fairies has trouble catching up with my system. When starting to believing in fairies since 2005; that's when I meet my first fairy, but she didn't set any placeholder mounts. She might be new to me. She has to warn the fairy queen about a new person who wanted to believe in fairies. They're big fairies all right, but they have to get me prepared for a long flight with fairies. That's when I started mounting on one of these fairies, and I can able to fly without any trouble.
Relationship With Other Characters
This is the list that focuses on other characters what Amy may be related to. But She isn't officially related to these characters like a family member.
Notable Content What She's Featured In
Website Content
Night Lights In My House (Series)
A Fairy-Rider Without A Fairy (Series)
Books/Ebooks
Under development...
Interactive fiction
Amy may be featured in these text-based games:
Cameos
Amy may play a role to feature in content that is setup when supported. Wether she features as an object, or an actual character.
Coming soon
Abilities/Special Powers
Ability to handle her mount up to 180 minutes (when supported)
Speak via words.
Ability to measure darkness of a room.
Speak to other mice
Allys
These are her allies what she currently had.
Me
Stanley
Enemies
Those are her enemies who might be her rivals, villains, or bullies.
Not Yet Set
Trivia
I inserted "Johnson" as her middle name because, that gives her a full name what I've mentioned earlier. I named her "Amy" because this is my first character that is n animated mouse in my imagination. Since my imagination is complex; I can create characters without any effort. This is my experimental project that is totally successful.
Started developing my character as I refused to use mouse-traps because, I became a vegetarian. Most vegetarians don't use mouse-traps. Using mouse-traps is bad.
This character is still currently under development, more of the character descriptions, and features will be written to this article soon.
[adrotate group="5"]